∣ visionlinx003 on the road! ∣
All taiwan smart ophthalmology mobile health examination vehicles use Rifartek and Visionlinx health service company solutions to provide non-floating smart health examination solutions.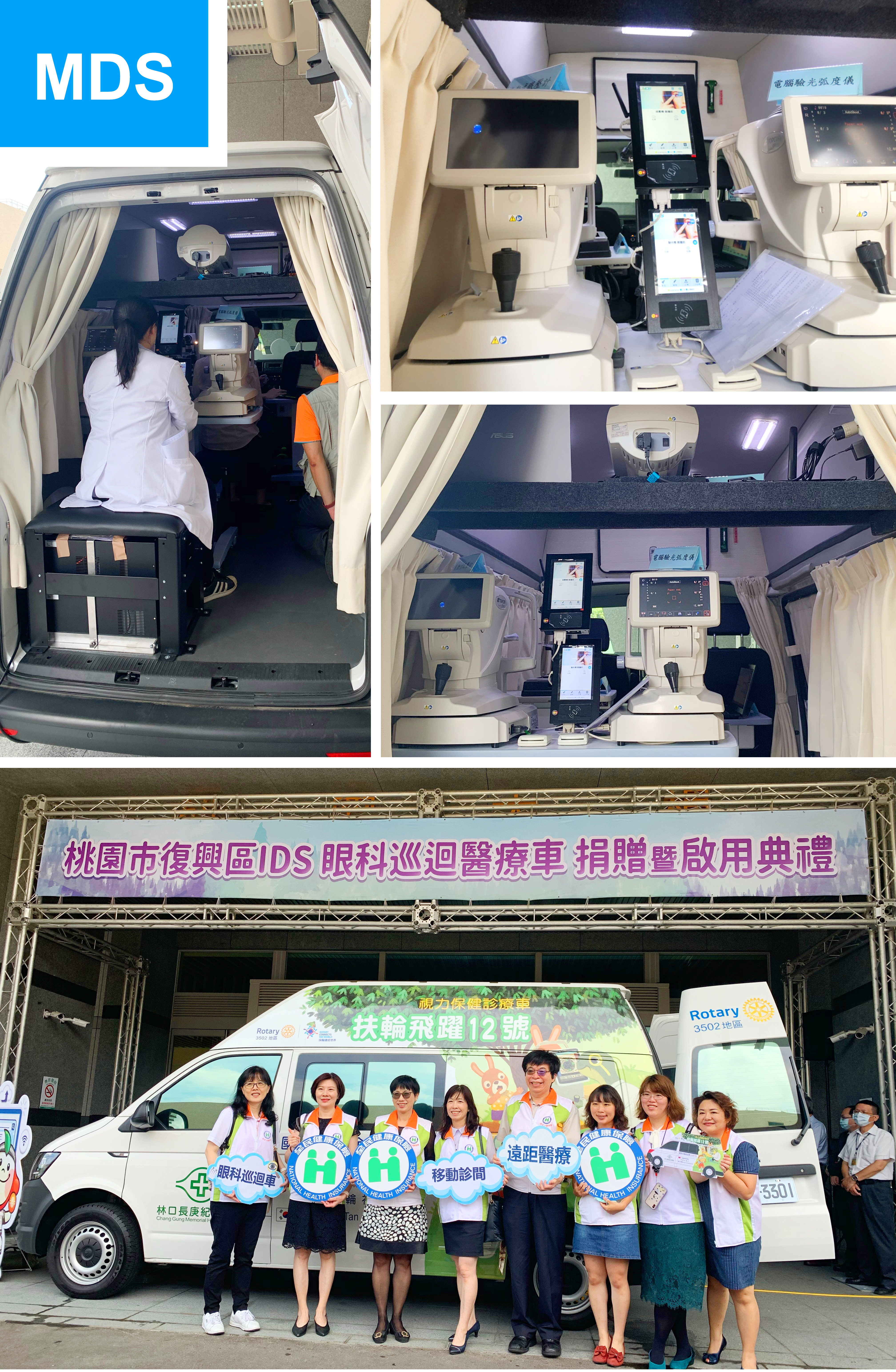 ∣ Visionlinx service digitalization of measurement data of service instruments in the cloud, providing assistance for medical care in rural areas. ∣
The Central Health Insurance Agency has promoted the "National Health Insurance Mountain Outlying Region Medical Benefits Improvement Plan" (IDS plan) since 88, and integrated medical resources into the rural care of Fuxing District, Taoyuan City. Taoyuan Rotary Club in Chang Gung Medical hospital donated an ophthalmological touring medical vehicle. Through Visionlinx Health Service, it is responsible for digitizing the instrument measurement data of this vehicle. Together with special equipment, it can transmit patient status and data in real time to help medical units go deeper into rural areas for medical services.
∣ Traveling medical vehicle makes distance no longer an obstacle to protecting health ∣
Residents in Taoyuan Fuxing Township are not easy to see a doctor, and it takes a long time to travel down the mountain. For example, if the public seeks an IDS plan to see a doctor, although the residents in the mountains and islands do not have to spend part of the burden, they basically do not charge a registration fee, but the doctor is not every disease. They all understand the need for telemedicine, and use medical vehicles to send patients symptoms and related information back to the hospital, which is then evaluated by physicians in the hospital. Telemedicine has become the future trend. The ophthalmology tour medical vehicle is equipped with professional equipment such as refractors, slit lamps, ophthalmoscopes, and tonometers. There is no need to send a doctor to spend 3 or 4 hours driving up and down the mountain. Only a professional optometrist is required to go up the mountain and transfer the patients 5G image data It is passed back to the hospital, and the doctor assesses the patients condition. If the doctor judges that there is doubt, he can go down to the hospital for further examination.
∣ IDS project service continues to expand, and public satisfaction remains high ∣
The IDS project in Fuxing District provides 24-hour inpatient consultation, weekly medical travel, and professional diagnosis and treatment services for back hill (Gaoyi, Sanguang, Hualing). The average annual investment is about 12 million yuan, which can serve 13,000 people. Satisfaction is as high as 90% or higher, and telemedicine services such as ophthalmology and otolaryngology will be added successively this year.
If you are interested in buying or donating medical vehicles, please contact the following information:
| | |
| --- | --- |
| No. 5, Jiaxing 1st St., Zhubei City, Hsinchu County 302058 , Taiwan (R.O.C.) | Contact |
| 03-558-6888 | 03-558-9001 |